Meet Our Team at Belle Reve Senior Living
Meredith Daniels
Executive Director
Meredith has been our Executive Director since September of 2020. She originally joined the Belle Reve team in July of 2018 as the Marketing Associate, to later became the Marketing Director. Meredith received her Bachelor's degree in Psychology from Rowan University and her Masters in Health Administration from Centenary University. She has her Personal Care Home Administrator (PCHA) certificate. Meredith is passionate about working with seniors and has worked with the aging population for over 10 years. She began her healthcare career working in dietary and activities. She enjoys assisting the residents and their families to ensure a smooth transition to Belle Reve and continuing to serve them during their stay.
Meredith grew up in Branchville, NJ and now lives on Culver Lake in Frankford, NJ. Meredith enjoys spending time with her friends and family and soaking up the sun on the beach or kayaking on the lake. She is an avid Boston Red Sox fan. She enjoys reading and is a member of a book club with her friends. She likes to travel and has been to Mexico, several Caribbean Islands, London, Barcelona, and several cities in Thailand.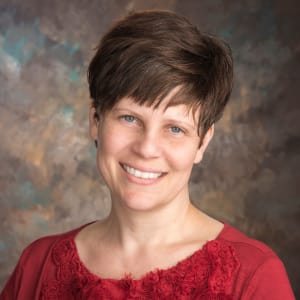 Jennifer Faines
Resident Care Director
My name if Jennifer Faines but I prefer Jenn. I have worked in health care since 2009. I have a BA in Communications, my Activity Director Certification (ADC), as well as my Certified Home Health Aide License (CHHA) in NJ and my Personal Care Home Administrators Certificate (PCHA) for PA. I have also trained and held a certified coaching certificate for Dementia Care through Teepa Snow. I started out my career as an Activity Assistant and moved up to the Director of Recreation. I worked in several Skilled nursing homes until I came to Belle Reve in 2015. Along the way I learned a lot about healthcare administration, caring for people living with dementia, working alongside families for positive resident outcomes and in general what I wanted to see happening in personal care. I worked for almost 4 years as the Recreation Director and developed some great friendships and relationships with residents, families and staff. In late 2018 I left Belle Reve to pursue a career change, but when I was asked to come back as the Resident Care Director I jumped at the chance to work in a place that I consider "home".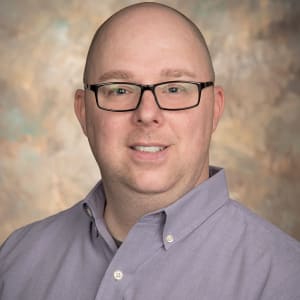 Chris Davis
Director of Rehabilitation
Chris is the rehabilitation director at Belle Reve. The members of the therapy team are employees of Prime Rehabilitation Services Inc. and have had the great pleasure of providing therapy services at Belle Reve Senior Living for well over a decade. Before becoming a therapist, Chris spent eight years on active duty in the United States Coast Guard. He then transitioned to the USCG Reserve component in 2007. He will retire in 2020 from USCG Station Sandy Hook in New Jersey as a Senior Enlisted Reserve Advisor. After relisting into the Reserves, Chris graduated with honors from the Occupational Therapy Assistant program at SUNY Orange in 2009. Shortly after graduation, he achieved National Board Certification as an occupational therapy assistant. Chris started his career working as a staff clinician in the geriatric community at Belle Reve Senior Living. We are fortunate to have been blessed to have him on our team over the last 10 years.
Bill Meurer
Director of Dining Services
Bill found his love for cooking in the U.S. Navy. After leaving the Navy, Bill attended the Culinary Institute of America in Hyde Park, New York. Bill started working in health care in 1987. He has been the director of Dining Services at Belle Reve since 2006. Bill is married with three children and has two grandchildren.
Eluisa Callanan
Marketing Director
Eluisa has worked in sales and marketing for her entire career. She got her first "taste" for working with people at her parents' bakery. Eluisa lives in Dingman's Ferry with her husband of 16 years and her two children. She enjoys spending time with her kids and being a cheer mom!
Simone Thomas
Memory Care Director
Simone found her passion for helping others many years before beginning her time in the healthcare setting. After a successful 20-year career in the NYC Department of Corrections, Simone began nursing school and is currently working to become a registered nurse. Simone has transcending compassion and a calling as a caregiver for seniors, but especially for folks with dementia. She has been a Milford resident for twelve years. Simone is very active in her church. She loves to sing at her church, has her biblical studies certificate, and likes to spend her free time volunteering in the local community.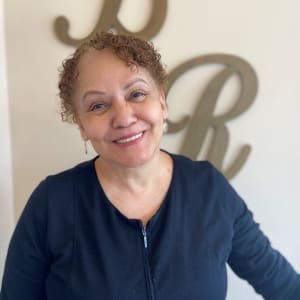 Miriam Rivera
Resident Life Director
Miriam initially joined Belle Reve in June of 2020 working as one of our receptionists. Miriam soon began splitting her time between the front desk and in recreation, where she really came out of her shell. Miriam grew up in Manhattan, NYC and moved to Milford three years ago. She enjoys yoga and photography. She likes to photograph things rather than people. "The stranger the better!" she says. Miriam connected three years ago through Ancestry.com with 11 siblings! She has been spending the past few years connecting with them. She has traveled to London, Paris and all of the islands. Miriam was previously a Business Analyst and worked on improvement processes for various businesses. But she says this is the most satisfying job she has ever had, working at Belle Reve with our residents. She loves coming up with new ways to entertain our residents.
Toney Allen
Maintenance Director
Toney is our Environmental Services Director/Maintenance Director. He has over 30 years of management experience and over 20 years of maintenance/facilities experience. Toney is originally from Chicago, IL. He is a Navy Veteran and has his BA in Business. He is a linguaphile. He is a history buff and enjoys all sorts of trivia. He has an undying love for people and a true passion for serving others. His favorite sports teams are the Pittsburgh Steelers, Chicago Bears, Chicago White Sox and Chicago Blackhawks. Toney is married and has five grown children and 10 grandchildren.
Favorite quote: "I don't know a whole lot about a whole lot, but I know a little something about a little something"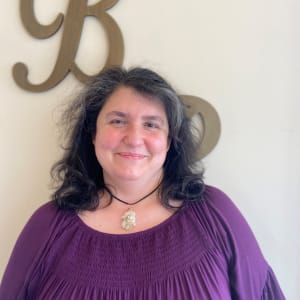 Gina Traslavina
Business Office Manager
Gina joined the Belle Reve team in October 2018 as a front desk receptionist. Over the last several years her role has grown and expanded into her current position as business office manager. Gina grew up in Brooklyn, NY, and spent 20+ years working on Wall Street. She moved to Los Angeles in 2009 and then moved back east to Milford in 2017. She is an active animal advocate and has been a foster for dozens of animals. Gina currently has 5 cats and 2 dogs! She is a Spiritual Life coach that does readings, empowerment coaching sessions, and classes.